Hi everyone! Its time for another WWW Wednesday 🙂
WWW Wednesday is a meme hosted by Sam@ Taking on a World of Words.
To participate, all you have to do is answer the following questions:
What are you currently reading?
What did you recently finish reading?
What do you think you'll read next?
---
Currently Reading: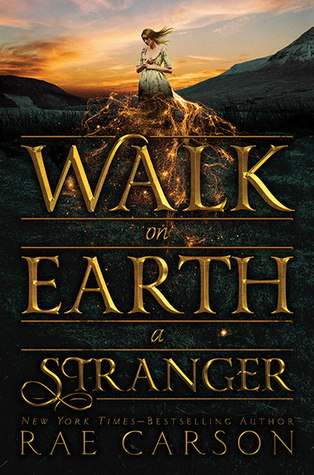 Walk on Earth a Stranger (The Goldseer Trilogy #1) by Rae Carson
After enjoying Carson's Fire and Thorns trilogy, I was looking forward to reading this book. I actually wasn't planning on reading it this soon, but it recently became available on Overdrive and library books take priority! Leah is definitely a strong heroine and whie I appreciate the magical gold-seeking aspect..not much has really happened. I'm hoping it picks up. This book is also the first in a trilogy, so I will get 1 point towards my total in the Series Read-Along Challenge I am participating in for November and December 🙂
Gold is in my blood, in my breath, even in the flecks in my eyes.

Lee Westfall has a strong, loving family. She has a home she loves and a loyal steed. She has a best friend—who might want to be something more.

She also has a secret.

Lee can sense gold in the world around her. Veins deep in the earth. Small nuggets in a stream. Even gold dust caught underneath a fingernail. She has kept her family safe and able to buy provisions, even through the harshest winters. But what would someone do to control a girl with that kind of power? A person might murder for it.

When everything Lee holds dear is ripped away, she flees west to California—where gold has just been discovered. Perhaps this will be the one place a magical girl can be herself. If she survives the journey.

The acclaimed Rae Carson begins a sweeping new trilogy set in Gold Rush-era America, about a young woman with a powerful and dangerous gift.
Recently finished:
Heartless by Marissa Meyer
Heartless was great! It was definitely a slow build-up, but the slow start was well worth that powerful conclusion. I probably still prefer the Lunar Chronicles in terms of pure enjoyment, but its really hard to compare the two. It was brilliant reading the backstory of a villain and I wish there were more books like this one out there.
Catherine may be one of the most desired girls in Wonderland and a favorite of the unmarried King, but her interests lie elsewhere. A talented baker, she wants to open a shop and create delectable pastries. But for her mother, such a goal is unthinkable for a woman who could be a queen.

At a royal ball where Cath is expected to receive the King's marriage proposal, she meets handsome and mysterious Jest. For the first time, she feels the pull of true attraction. At the risk of offending the King and infuriating her parents, she and Jest enter into a secret courtship.

Cath is determined to choose her own destiny. But in a land thriving with magic, madness, and monsters, fate has other plans.
What I'll read next:
City of Ashes (The Mortal Instruments #2) by Cassandra Clare
I'm excited to continue this series! I wasn't absolutely thrilled with City of Bones (review here!) but like I mentioned before, I fully intend on reading the entire series before I form any lasting judgement. The shadowhunter world is definitely a world I am excited to return to. I will also get 2 points for this book in my series read-along challenge.
Clary Fray just wishes that her life would go back to normal. But what's normal when you're a demon-slaying Shadowhunter, your mother is in a magically induced coma, and you can suddenly see Downworlders like werewolves, vampires, and faeries? If Clary left the world of the Shadowhunters behind, it would mean more time with her best friend, Simon, who's becoming more than a friend. But the Shadowhunting world isn't ready to let her go — especially her handsome, infuriating, newfound brother, Jace. And Clary's only chance to help her mother is to track down rogue Shadowhunter Valentine, who is probably insane, certainly evil — and also her father.

To complicate matters, someone in New York City is murdering Downworlder children. Is Valentine behind the killings — and if he is, what is he trying to do? When the second of the Mortal Instruments, the Soul-Sword, is stolen, the terrifying Inquisitor arrives to investigate and zooms right in on Jace. How can Clary stop Valentine if Jace is willing to betray everything he believes in to help their father?

In this breathtaking sequel to City of Bones, Cassandra Clare lures her readers back into the dark grip of New York City's Downworld, where love is never safe and power becomes the deadliest temptation.
18 Months by Samanth Boyette (NetGalley ARC)
I requested this book on NetGalley because it sounded like an interesting YA crime thriller and it was recently approved. It is published on December 13th so I just need to read it sometime before then, and it seems like it will be a quick read. I honestly have no idea what to expect because it only has two reviews on Goodreads. Two! I just hope it is an enjoyable thriller 🙂
Alissa Reeves came out for Hannah Desarno. Hannah is smart, beautiful, and has just gone missing. Worse, she isn't Alissa's first girlfriend to disappear. Eighteen months ago, Alissa was caught kissing bad girl Lana Meyers. Too scared to admit her feelings for Lana, Alissa let her friends blame Lana. Weeks later when Lana disappeared, no one in their small town thought much of it until months later when her body was found.

With Hannah gone, Alissa finds herself following clues that will help her discover what happened to both girls, and the truth will change everything.
What are you reading this week?